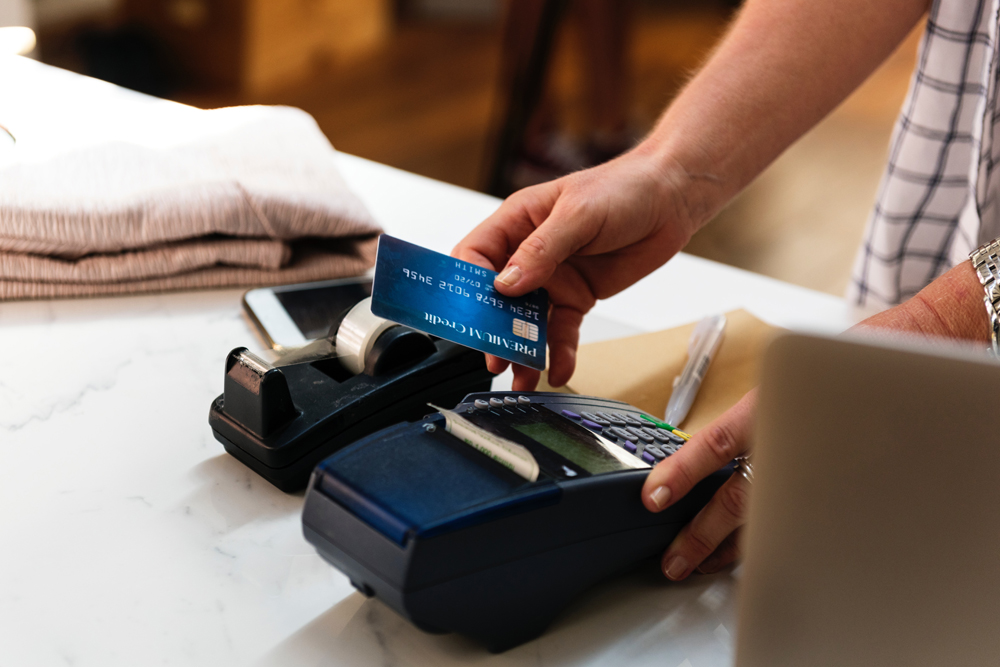 EDC Payment
Why do cashiers need to key in transaction amount again on EDC when it is already shown in cashier's Point of Sales (POS) system?
How likely does it produce human error?
And how long should other customers wait for cashier to key in 2 amounts for a transaction?
Our client would reduce 50% of the entry process from two times entry to one time entry. And we make it happen by integrating EDC payment to our POS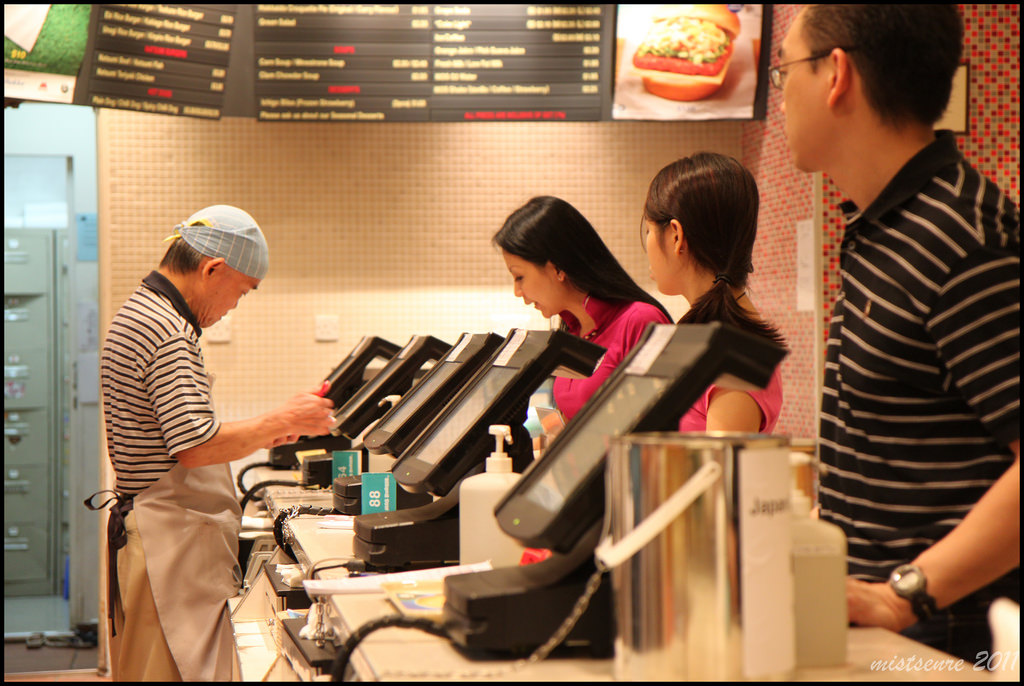 As we might have observed, cashier deals with these many things during just four minutes of average transaction time :
Customer's goods
Cashiers need to handle the goods delicately because it belongs to customer. They must make sure customer purchase the product in good condition. Also, in some stores, customers can leave their shopping items in the cashier while continue shopping. Thus, cashiers must know which product belong to which customer.

Shopping bag
In many cases, several sizes of shopping bags are available. Cashiers need to decide which shopping bag is suitable customer's goods.

Point of Sales
During transaction, cashiers interact with computers, printers, barcode scanner, etc. Every punch on keyboard, click on mouse, or tap on screen need to be 100% accurate.

Sales notes
Once the transaction data are keyed in into the system, sales note is printed. Every word, character, and especially number on the receipt is very sensitive to customer. A good cashier makes sure that the printout receipt reflects what customer buys. In some shop, cashier also needs to be certain that sales promoter name is correctly printed as it may affect promoter's commission.

Customer's small talk / questions
Almost always, there are customers who engage cashier in conversation during transaction and, sometimes, they complain. Cashiers need to handle both while doing many things for the transaction to be successful

EDC, cards, loyalty points, discount, promotions
All the above are common peripherals that cashier needs to be knowledgeable of. Sometimes promotion changes, discount changes, or EDC has problems. All these cases must be professionally handled in front of waiting customer.

Smile and attitude during high accuracy data entry
It is the rule of thumb of every good service. Cashiers take an important role because they are the last contact point which customer touches in the whole shopping experience. Customer would leave the store with smile or sullen face is really dependent on how cashier gives the last impression.
So, again, in just 4 minutes of average transaction time, cashier really has tons of things to do whether we realize it or not.

We make activities breakdown and comparison before and after using the integrated payment system as follow: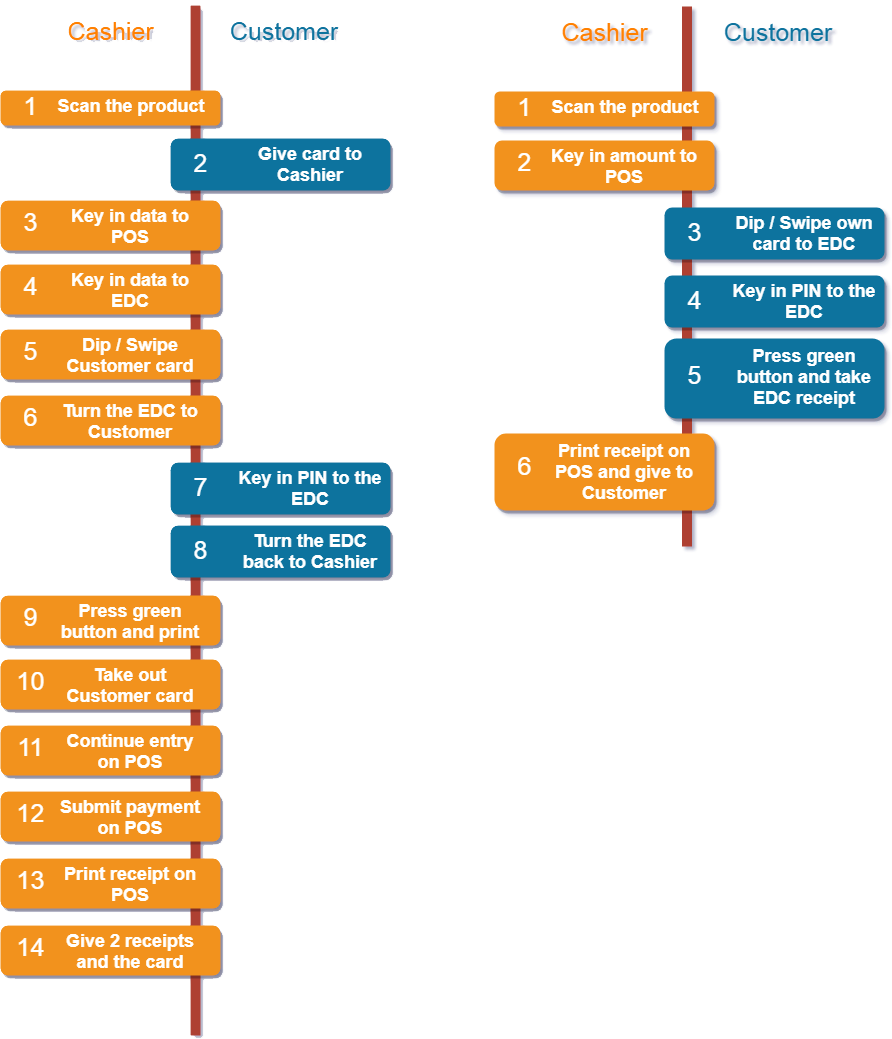 As you can see, there are fewer activities for cashier to finish a transaction. Other benefits our client has experienced:
Shorter transaction time by almost 50% and, thus, faster queuing time for customer

Reduced human error, especially during transaction amount input on EDC as it is handled by the integrated payment system

Customer's privacy is even better respected as customers hold their own card; never pass sensitive information to other's hand

One-to-one transaction on POS which make it easier to track and monitor as one POS only connects to one EDC

Merchant discount rate calculation is automated, thus, users are provided with instant reporting on daily sales transaction including fees incurred
Let cashiers interact with system effectively

Read further by clicking below link :
We understand that the case in your organization has different degree of complexity.
Please briefly tell us by filling the form below or book our FREE Session now